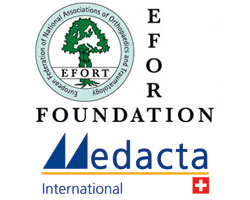 During EFORT Annual Congress 2018, which was held in Barcelona, Spain from 30 May until 1 June 2018, Medacta International introduced the Clinical Research Fellowship Programme to the Orthopaedic and Traumatology community.
In October 2018, the EFORT Foundation Clinical Research Fellowship supported by Medacta International was launched.
One special fellow every year, so called "Clinical Research Fellow" will visit a specific selected host centre where a clinical research process is on-going. The clinical research fellow will be guided through the research process from the development of a hypothesis to data collection, manuscript writing, and presentation at national and international orthopaedic conferences.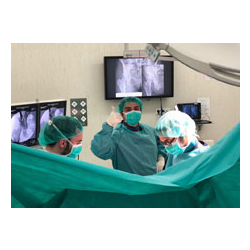 Benefit from your peers' best practice and educational knowledge!
The EFORT Foundation Visiting fellowships are a great way to:
Gain experience and learn the latest techniques in hip & knee arthroplasty
Spread new ideas and introduce fellows to the local culture of host countries
Provide a platform to develop better links between orthopaedic & trauma surgeons
Apply online now: http://www.efortfoundation.org/fellowships/
After completion of the fellowship, EFORT Foundation and EFORT require a final report from each fellow that may be published on our website.
The report is to be written on a special template within one month after the end of fellow's visit.
It is recommended that the report is 3-4 pages including the cover page.
The following paragraphs should be addressed:
Description of clinical activities during the fellowship.
Description of scientific activities during the fellowship.
Description of social aspects of the fellowship.
Technical skills that I learnt during the fellowship.
Theoretical knowledge that I learnt during the fellowship.
New knowledge and skills that I can implement in my own practice.
Overall reflective statement over how the fellowship contributed to my professional development.
Important to note: Fellows are kindly requested to follow the these additional rules of the reporting:
The report will be published on EFORT/EFORT Foundation websites.
The report will be forwarded to the sponsor of your visiting fellowship as feedback.
The report will be forwarded to your host as feedback.
Please also note that only the narrative and not the first page, the evaluation (ticked boxes) will be posted on the website.
EFORT reserves the right to select reports to be published on the website.