EFORT FOUNDATION VISITING FELLOWSHIPS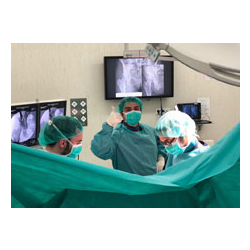 Benefit from your peers' best practice and educational knowledge!
The EFORT Foundation Visiting fellowships are a great way to:
Gain experience and learn the latest techniques in hip & knee arthroplasty
Spread new ideas and introduce fellows to the local culture of host countries
Provide a platform to develop better links between orthopaedic & trauma surgeons
Apply online now: http://www.efortfoundation.org/fellowships/
TESTIMONIAL FROM A FELLOW
In her own words, Dr. Roxana Viamont Guerra, an EFORT Foundation Visiting Fellow explains how the experience, learning and exchange of her EFORT Foundation Visiting Fellowship has impacted on her day-to- day practice in her own country. Watch it now and get inspired!