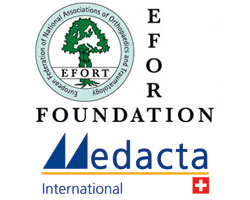 During EFORT Annual Congress 2018, which was held in Barcelona, Spain from 30 May until 1 June 2018, Medacta International introduced a new extensive educational concept the CLINICAL RESEARCH FELLOWSHIP to the Orthopaedic and Traumatology (OT) community.
In October 2018, EFORT FOUNDATION CLINICAL RESEARCH FELLOWSHIP supported by Medacta International was launched.
One special fellow every year, so called "Clinical Research Fellow" will visit a specific selected host centre where a clinical research process is on-going.
The Clinical Research Fellow will be guided through the research process from the development of a hypothesis to data collection, manuscript writing, and presentation at national and international orthopaedic conferences.
Topics of focus can include hip, knee and shoulder arthroplasty.
The Call for Applications is CLOSED!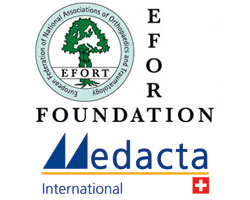 For the 2019 EFORT FOUNDATION CLINICAL RESEARCH FELLOWSHIP, the call for applications is currently closed.
Selection of the fellow will be done by the Evaluation Committee no later than by March 2019.
The Evaluation Committee will thoroughly evaluate all the submitted applications and decide which application is accepted.
All the applicants will be notified about the final decision (acceptance/rejection) in writing in April 2019.
The decision of the Evaluation Committee is final and no appeals are accepted.
The accepted fellow is personally responsible for taking care of any additional administrative or financial aspects of the fellowship such as insurance, vaccinations or visa as requested by the host institution. These are not the responsibility of EFORT Foundation.
The Research fellowship is for the period of twelve (12) months and will start in September 2019. The fellowship will finish in September 2020.
One research fellow position is open under this fellowship in 2019.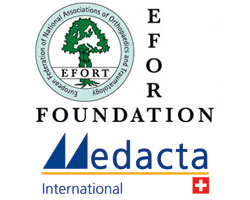 The applicants are invited to apply for the EFORT FOUNDATION CLINICAL RESEARCH FELLOWSHIP via the online application system:
www.manuscriptmanager.net/efort
In order to submit an application, the following documents together with the completed application form need to be submitted:
Copy of MD license.
Copy of orthopaedic specialist license OR residency registration certificate.
Two (2) recent letters of recommendation dated within last 12 months.
Your List of Publications.
Your Updated CV.
A Cover letter.
This EFORT FOUNDATION CLINICAL RESEARCH FELLOWSHIP allows young orthopaedic surgeons of less than 45 years old to apply for this prestigious programme.
Applications are welcomed from the following countries only:
 Australia.
Austria.
Benelux (Belgium, Netherlands and Luxemburg).
Brazil.
Canada.
France.
Germany.
Greece.
Indonesia.
Ireland.
Italy.
Israel.
Japan.
South Africa.
Spain.
Switzerland.
United Kingdom, and
United States of America.
The grant amount will be 2'500 euros/month plus extra 1'000 euros/study if the fellow comes from overseas. Therefore, the total grant amount will be 30'000 euros/fellow/fellowship (plus an additional 1'000 euros is provided if the selected fellow comes from the overseas).
Host Centre:
The CLINICAL RESEARCH FELLOWSHIP 2019 will be held in Central Manchester NHS Foundation Trust, Manchester, United Kingdom.
The CLINICAL RESEARCH FELLOWSHIP 2019 will be held under supervision of Prof. Dr. Leela BIANT.
Research topic:
The research title will be "A personalized precision approach to surgery of the osteoarthritic knee".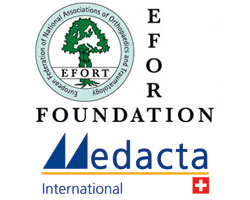 More information & Contact
For any further inquiries, please contact :
Mrs. Lidia Sloutskovski
Coordinator Educational Programmes
Email: foundation@efort.org
Phone: +41 21 343 44 08