INTRODUCTION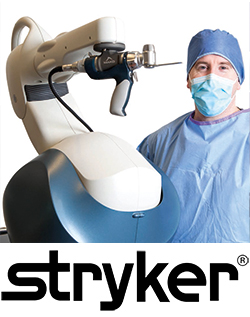 During the EFORT Robotics Fellowship Programme supported by stryker, the fellow will be expected to train in the breadth of robotic assisted hip and knee arthroplasty surgery. The fellow will be supervised by distinguished surgeons with extensive clinical and academic experience in the joint replacement robotic field. This programme will be an excellent preparation for clinical practice outside of an academic environment. The fellowships are designed to provide the successful applicants with the best and widest practical experience of Mako robotic orthopaedic procedures and how to effectively integrate the technology into their day to day practice. The fellows will "scrub-in" where possible and through compliance with the host centre's standard protocol.
Both Visiting and Travelling fellowships are available.
If you already have an experience in robotics, this is an excellent opportunity for you to gather further knowledge and experience in this field. Whilst experience in robotics is preferred, however it is not essential if the applicant demonstrates appropriate experience and enthusiasm for the use of robotic surgery in their future career.
– The call for applications is currently closed –